Dye sublimation printing overview with Sawgrass inks
OVERVIEW
EQUIPMENT AND INKS
PRINTMATE
DESIGNMATE
FAQ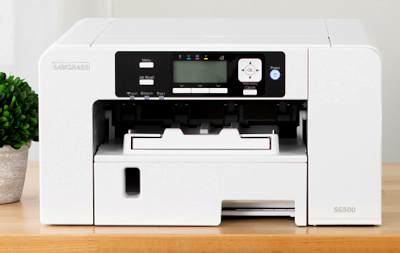 WHAT IS SUBLIMATION PRINTING?
This is the technical bit! Sublimation printing is the application of sublimation inks onto a surface using a heat press to provide the required combination of heat, time and pressure. This process causes the inks to be converted from a solid to a gaseous state enabling them to penetrate the sublimatable surface so that a permanent, full colour image is formed. The colour penetrates the surface of the item so that the result is colourful, long lasting and resistant to scratching unlike some other printing methods that merely print onto the surface of the item.
Dye sublimation printing is normally done on a polyester or polyester coated item although some other polymers will accept sublimation. At high temperatures, the solid dye converts into a gas without ever becoming a liquid. The same high temperature opens the pores of the polymer and allows the gas to enter. When the temperature drops, the pores close and the gas reverts to a solid state. It has now become a part of the polymer. For this reason true dye sublimation cannot be done on natural materials such as 100% cotton. Natural fibres and non-coated materials have no "pores" to open.
WHAT CAN BE SUBLIMATION PRINTED?
You can sublimation print onto a wide variety of items provided that the surface is suitable for sublimation printing. We offer both 'hard' and 'soft' items that are suitable for sublimation printing - full details of our extensive range can be found on our
SUBLIMATION IMPRINTABLES
pages.
Hard items include specially coated plaques, signs, placemats, coasters, tiles, mugs, metal and keyrings. Soft items include polyester fabric, canvas, t-shirts, cushions, car sun screens, pillowcases and more! A sublimation print on a suitable polyester fabric is permanent, feels like part of the fabric with no 'hand' and will not crack, peel or fade.
WHAT CANNOT BE SUBLIMATION PRINTED?
Cotton fabric and garments - because dye sublimation printing is always done on polyester, polymer, or polymer coated items for the reasons mentioned above. It is possible to sublimation print a cotton fabric but the image will wash out within a few washes, it will not be a permanent image in the way that it is on a 'man made' fabric.
Also unsuitable are other items that have a polyester/polymer coating but are unable to withstand the temperatures required for dye sublimation printing.
Additionally dark coloured items cannot be sublimation printed as the process relies on a light printable surface.
WHY IS SUBLIMATION BETTER THAN OTHER SYSTEMS?
The advantage of sublimation printing is that the results are permanent. The transferred images are not on the surface of the substrate - they become part of the substrate itself which means that the items are much more durable!
WHAT YOU NEED TO GET STARTED
A printer with dye sublimation inks.


A suitable heat press (flat press for flat items and a mug press for round items).
Heat tape to prevent your printed transfer moving on the imprintable item.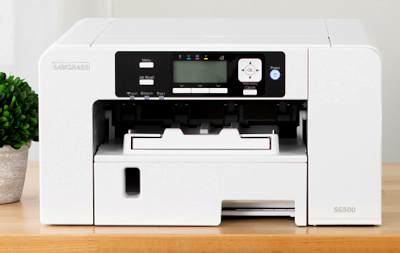 We offer the Sawgrass Virtuoso range of inkjet printers, available in A4, A3 and 25" wide for dye sublimation printing.
This range of printers has been especially developed for dye sublimation printing and quality and reliability is second to none.
For full details on our current range of printers see -
SUBLIMATION INKS
So what's special about dye sublimation inks? Dye sublimation inks are different to the usual inkjet inks that you can buy - they are a formulation of different coloured dyes suspended in liquids that will pass through a standard inkjet printer. So it could be argued that they are more dyes than ink in reality. You could put dye sublimation inks into some other inkjet printers but without a professionally made colour management system (which is custom written for each printer) you will not get vibrant pure colours. This is because the printer has it's own profiles which anticipate that you will be using the manufacturer's own ink - if you use dye sublimation inks the colours need adjusting as these inks are not identical to the manufacturer's own inks.
This may sound complicated but it is really simple as Sawgrass have already done all the hard work and offer a superb colour management system.
We are authorised Sawgrass distributors and only offer their range of dye sublimation inks.
If you print onto standard plain paper you would find that the ink would sink into the paper, for best sublimation printing results you need a paper that allows the ink to stay on the surface of the paper.
We recommend
True Pix
dye sublimation paper which is custom designed for sublimation printing, produces stunning results and is available in a wide range of sizes from precut sheets for mug printing up to 24" rolls. True Pix is the paper that Sawgrass recommend for use with their printers.
Specially developed heat tape which can resist high temperatures under a heat press and then be removed without leaving any marks on your imprintable. Our very popular red heat tape can be found
here
!
For 'flat' items such as plaques, coasters, tiles, garments, etc, you will need a flat bed heat press.
Full details on the range of heat presses that we offer can be found on our heat press pages. We also offer a range of alternative heat presses for specialised items like bags, caps and plates.
Please note it is not possible to obtain the consistency of heat and pressure required for the dye sublimation printing process using a home iron.
HEAT PRESSING MUGS AND ROUND ITEMS
For dye sublimation printing mugs of various size (including latte shapes) and round money banks you can use a mug press which is purpose designed to print around cylindrical items.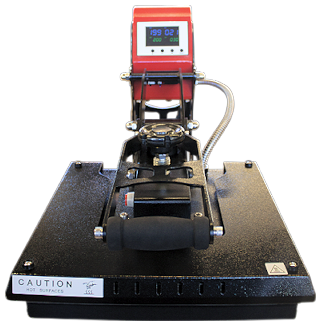 SUPPORT
We believe that the support that Sawgrass offers to customers is second to none.

Before you buy a printer and inks from other sources check if they offer a two year guarantee on printers and lifetime technical support should you ever need it. Sawgrass do.

Once you have purchased your printer you can sign up for a free onboarding session with a Sawgrass expert to talk you through setting up your printer. The session is scheduled for one hour so you will have plenty of time to ask any questions you may have.
WHICH PRINTER SHOULD I GET?
If you want to speak to us about which printer option is best for you then give us a call on 01404 892995.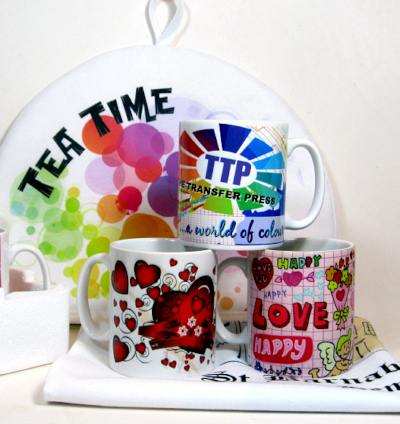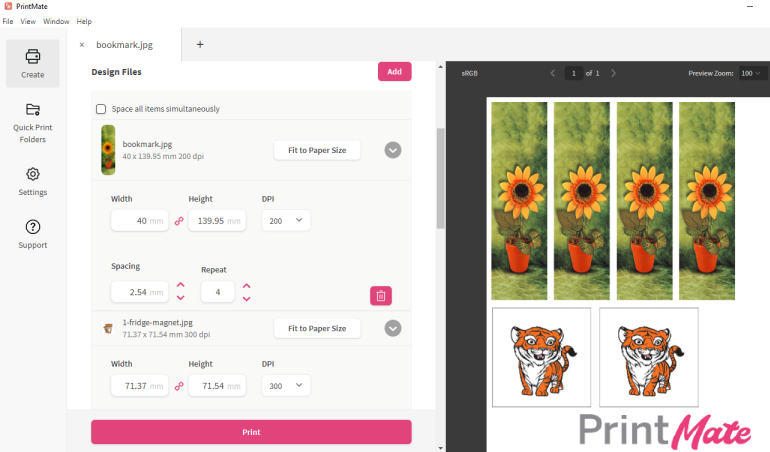 PRINTMATE
New for 2023 PrintMate is the new, improved colour rip/printing software from Sawgrass especially designed to work with their Virtuoso Printers. PrintMate offers enhanced features, colour matching, and functionalities for a smoother, more efficient printing process with smart defaults.

Equipped with an intuitive user interface, PrintMate enables you to achieve accurate colour reproduction and exceptional print quality on a wide variety of substrates.
New features include -
If you use a Silhouette Cameo 3 or Cameo 4 you can design in DesignMate and PrintMate will add your registration marks
Sizing in PrintMate does not degrade your resolution so those last minute sizing adjustments can be made within the printing software.
If you have some knowledge of colour theory, you can utilise the spot colour option to dial in your colours.
With a simplified installation process and automatic updates, PrintMate ensures a hassle-free experience from the start and keeps you up-to-date with the latest features and improvements.
DOES PRINTMATE WORK WITH DESIGNMATE?
Of course! It works seamlessly with the cloud based DesignMate design software (for both Windows and Mac OS) that is included as part of your printer purchase.



THE PRINTMATE PRINT MANAGER
PrintMate is supplied as part of your Virtuoso printer package and is designed to ensure that you get the very best results from your printer.
HOW DOES IT WORK?
PrintMate bypasses the printer's native driver, allowing it to control the transmission of the print file from the computer to the printer more effectively.
DO I NEED A SPECIFIC GRAPHICS OR DESIGN PACKAGE?
No, you do not. The Print Manager allows for a wide range of image types which can be produced in packages such as CorelDraw, Adobe Photoshop, Adobe Illustrator or even MS Paint! Just produce your image, send to print in PrintMate, select your printing options and then print!

WHERE CAN I GET HELP AND ADVICE IF I NEED IT?
All purchasers of Sawgrass Virtuoso printers also can sign up for a free onboarding session with a Sawgrass expert to talk you through setting up your printer. The session is scheduled for one hour so you will have plenty of time to ask any questions you may have.
You can always talk to us if you need more help or advice.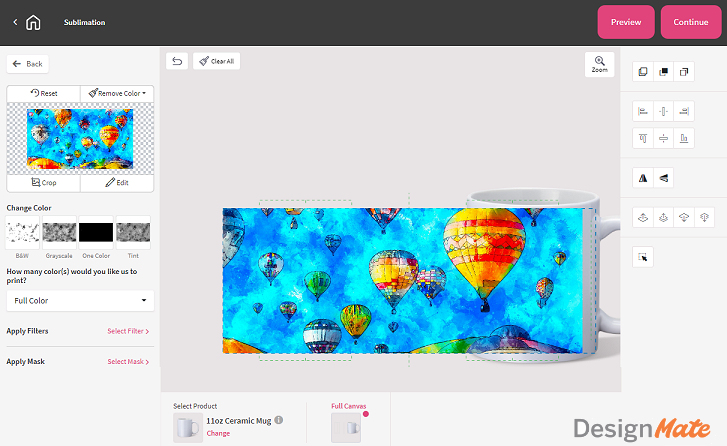 DesignMate is your upgraded creative companion, designed to make your design process smoother, more efficient, and more versatile. With enhanced selection layers, simplified image mask creation, expanded background functionality, and the ability to draw basic shapes, DesignMate empowers you to bring your creative visions to life with ease.
Organize and format text more effectively with the new paragraph text feature, and upgrade to DesignMate+ to upload your own fonts for further customisation.
Save custom canvases, upload your own templates, and use keyboard commands for basic functions to personalise your workflow and boost your productivity. With DesignMate, you're in control of your creativity.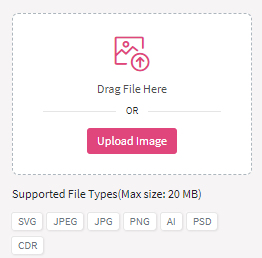 HOW DO I ACCESS DESIGNMATE?
DesignMate is cloud based and available for you to use free of charge, if you wish to, as part of your Sawgrass printer purchase.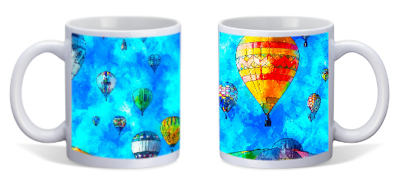 CAN I GET HELP TO USE DESIGNMATE?
Yes of course. As part of your free onboarding session you can ask the Sawgrass expert to guide you through producing and printing images using DesignMate.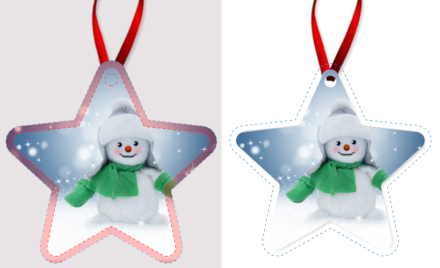 Generally dye sublimation printing and pressing should present very few problems but we suggest a read of this FAQ to give you an overview of problems that could arise and how to prevent them happening in the first place.
If you still have questions then do call us on 01404 892995, use our online chat option or contact us via our sublimation contact form.
Do I need to worry about moisture levels in my imprintable items?
Yes you do need to be aware of how moisture in your imprintables can affect the finished results. The introduction of moisture into the sublimation process can cause unwanted results. During production with a heat press operating at around 200°C, moisture can flash to steam and literally blow the ink away from its intended target. Some of the problems that are attributed to moisture include colour shifting (colours lose accuracy), image bleeding and the uneven transfer of solid-filled areas. Under normal circumstances, a small amount of moisture can accumulate in the transfer paper and it's usually absorbed directly into the substrate during pressing. However, hard substrates like metal and ceramic are unable to absorb excess moisture so it's important that you take steps to minimize the introduction of moisture into the process.
The good news is that it is very easy to ensure that excess moisture does not cause problems!
Protect your dye sublimation paper from moisture absorption particularly during colder seasons or if you work in a area with little or no heating. As a preventative measure, store your paper in a dry place in a sealed container or resealable bag. If you think your paper may have some moisture in it just lay the paper on the base of your press for a few seconds. Do not press it; just expose it to the warmth. The heat radiating from the press should help evaporate most of the moisture.
Hard items such as MDF, wood and ceramics will retain moisture so it is always a good idea to give them a quick prepress to remove any excessive moisture particularly during the colder, damper seasons. 10 seconds under the heat press will usually be sufficient but if you see a lot of moisture coming out give them a little longer. Note that if you use a Teflon/PTFE cover sheet that this can push the moisture back into the imprintable, you may find that our pressing paper is a better option.
If you are working with garments or other fabric items it is also possible that the substrate may contain some moisture. Pre-pressing the fabric for about 10 seconds should remove the moisture, as well as any wrinkles in the fabric, so that you have a good surface to press onto.
My colours are light/uneven or the image appears blurred
Read through the guidelines above on moisture. Check that you printed on the correct side of the paper - for our True Pix paper the print side is the bright white side of the paper.
Double check that you pressed using the proper time, temperature, and pressure. We offer suggested pressing times and temperatures for all our imprintables on the respective product pages.
Ensure that your substrate is designed to accept a sublimation transfer. Garments made from natural fibres such as cotton are not compatible with the sublimation process.
Help - my pressed image looks cloudy!
This can often be caused by moisture in the substrate you are pressing onto, particularly hard items such as MDF and ceramics. Read through the guidelines above on moisture.
Why do I have duplicate versions of my image?
This is called 'ghosting'. If the transfer paper moves on the surface of your pressed item while it is still hot from the press then an additional 'ghost' image can appear. This is easy to avoid - just make sure that your transfer paper is securely taped to your imprintable item so that it will not move when the press is opened. Once you have removed the item from the heat press ensure that you remove the transfer paper in a quick smooth motion. Obviously protective gloves are needed!
Can I use sublimation printed signs outside?
Currently most sublimation printed signs are only recommended for very short term use outdoors as the UV resistance means that the images will fade relatively quickly. The outdoor life can be extended by use of a product such as Frog Juice which adds an additional layer of UV protection.
Unisub and Chromaluxe have developed a new range of outdoor aluminium which offers a 5 year outside life. Details can be found on our sublimation imprintables listing page!