Our free downloadable PDF guides to making up hotfix rhinestone and rhinestud designs
GETTING STARTED WITH MAKING RHINESTONE AND RHINESTUD DESIGNS
We have lots of helpful PDFs here for you to download.
We talk you through making up a stencil design, cutting it out and then adding your choice of hotfix rhinestones or rhinestuds.
There are also guides to using our FREE rhinestone fonts and also how to resize other rhinestone fonts that you source elsewhere. We also have a guide to using single line fonts which can be used to quickly make up word designs.
We also have a guide to heat applying your finished design using either a heat press or a home iron.
Remember that we offer a wide range of high quality hotfix rhinestones and rhinestuds plus sticky flock and application tape!
We have everything that you need to get started making up lovely designs for t-shirts, sweats, hoodies, bags and so much more.
If you need help or advice you can always contact us via our live chat, by email or give us a call on 01404 892995.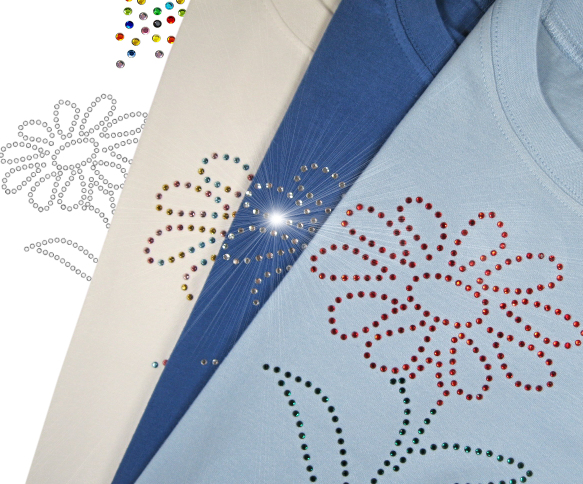 Download the SVG file of our flower design. To cut in Silhouette or Cricut simply import the SVG file and cut following our 'Cutting and making up your stencil design guide' and the appropriate cut settings for your cutter.
HOLE SIZES FOR OUR RHINESTONES AND RHINESTUDS
| | | |
| --- | --- | --- |
| Rhinestone | Rhinestud | Hole size |
| ss6 | 2mm | 2.4mm |
| ss10 | 3mm | 3.3mm |
| ss16 | 4mm | 4.2mm |
| ss20 | 5mm | 5.2mm |
MAKE A DESIGN IN 5 MINUTES!
Our quick and easy guide to making up a flower design using the free package Inkscape. Download the PDF to see how we made up our design!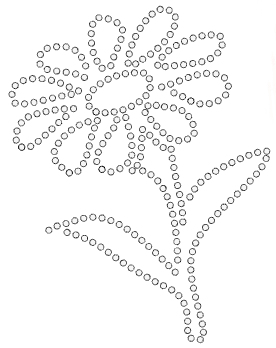 CUTTING AND MAKING UP YOUR STENCIL DESIGN
Our guide to cutting your stencil and making up your designs so that you can make great sparkly products!
You can make up your stencil design using rhinestones or rhinestuds, using one or two colours, using multi coloured mixes of stones/studs and also how to make designs using two different sizes.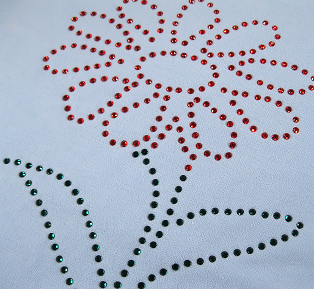 RESIZING 'DESIGNER EDITION' HOLES IN SILHOUETTE STUDIO
Silhouette Studio 'Designer Version' includes an option to make rhinestone designs. The default hole sizes may not match the hole sizes for the rhinestones and rhinestuds that you have. In the case of our range of rhinestones and studs only one of the four standard sizes is correct. Here is the quick and easy way to resize the holes!



FREE STENCIL DESIGNS
Your starter packs includes some free stencil designs to get you started - have a look HERE to see what is available!
FREE TTP RHINESTONE FONTS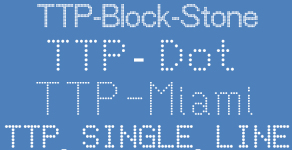 Four FREE fonts for making up rhinestone and rhinestud stencils. Just download the fonts and then follow the instructions in our PDF quick guide to resize the fonts in Silhouette and Cricut so that they can be used with different sized rhinestones and rhinestuds.