Custom hotfix rhinestone and rhinestud design service
We offer a service to custom make hotfix rhinestone and rhinestud designs so if you have a logo, special design for a trade show, hen party design, special occasion design, or anything else then contact us to see what we can offer you.
All our custom designs are made up from our high quality rhinestones and rhinestuds, and we can also do designs that have more than one stone or stud size. We can advise which option is the most suitable for your design.

Your designs can be single colour, or multi colour, as shown in some of our examples here.
If you only have a broad idea of what you need that is no problem - just contact us and we will see what we can do to help!
There are more details below - if you want more information then please do phone us on 01404 892995, use our live chat (Monday - Friday 9-5), or contact us via our
Contact Form.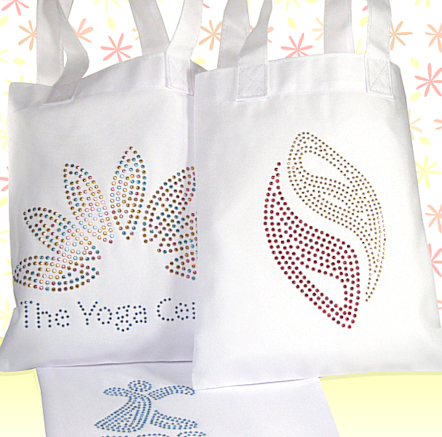 WHAT SORT OF DESIGNS CAN BE CUSTOMISED?
Anything can be! We show here some designs along with the original artwork they were based on. Very often it is not possible to produce a perfect 'copy' of the original design, the use of stones restricts what you can do, however a good result can usually be achieved.
If you want an idea of what we can do with your design just send us your artwork, or an outline of what you want, and we will be happy to help you design what you want!
IS THERE A MINIMUM ORDER?
We can custom product just one design but obviously this will be more expensive per piece than when we produce larger quantities as we can offer generous discounts for large orders. Smaller orders may attract a set up charge. Ask us for more information!
WHAT IS THE COST?
We cannot give a price until we know the size of the design, if it is to be made from rhinestones or rhinestuds, the complexity of the design, and what colours are to be used.
HOW ARE THE TRANSFERS SUPPLIED?
The transfers are supplied on a clear carrier sheet with a white backing sheet.
HOW ARE THE TRANSFERS HEAT APPLIED?
Just follow the instructions HERE to heat apply your transfers.
WHAT CAN YOU APPLY THEM ONTO?
The transfers are suitable for application onto most garments (except anything that has a Teflon or special coating), bags, other fabric items.
WHAT IS THE LEAD TIME?
We would normally expect to ship your transfers within 7 days once the design is agreed on. We may be able to ship earlier by special agreement.
ARE THE RHINESTONES AND RHINESTUDS WASHABLE?
Garments with correctly applied rhinestones and and rhinestuds can be machine washed at 30c and tumble dried at a low temperature setting.