Licenced artwork transfers from Art Brands, Wild Side and Best Friends Pets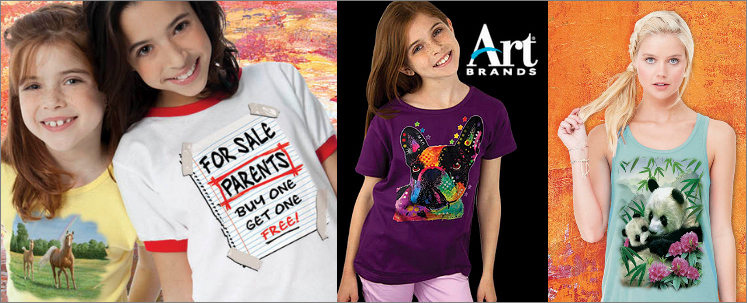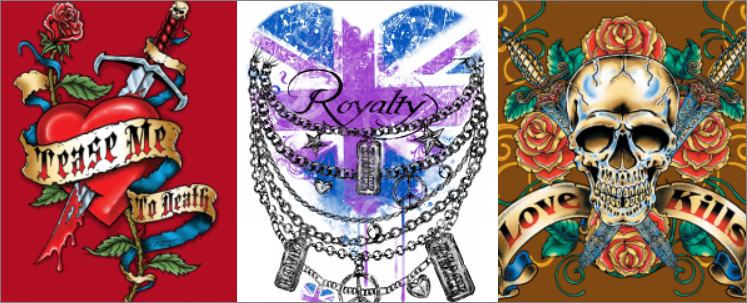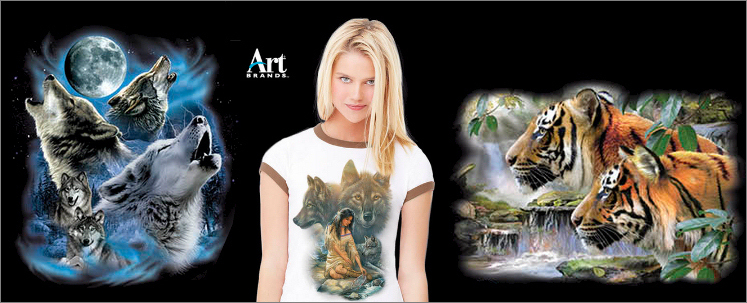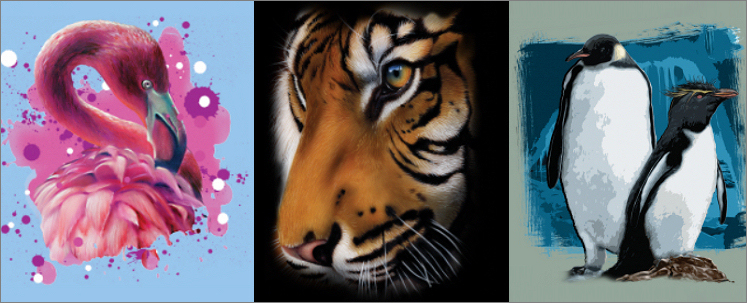 WHAT ARE LICENCED HEAT TRANSFERS?
Licenced artwork heat transfers are a very cost effective way of offering a wide range of high quality designs from world renowned artists and designers. Unlike silk screening where large batches have to printed at the same time, with heat transfers you only print a single item once you have the order for it. So your only stock holding is the transfer not 100s of printed t-shirts!
The Transfer Press is probably the largest distributor of pre-printed licenced transfers in Europe offering a range of some 4,000 designs across a huge range of subjects from cute and cuddly pets to motorbikes, designs from Tattoo Johnny and Liquid Blue, cats, dogs, horses and so much more.
WHICH COMPANIES DO WE DISTRIBUTE FOR?
We distribute for two American companies - Art Brands and Best Friends Pets, catalogues for these manufacturers are included in our catalogue pack. Follow the links below for more details on each range.
HOW ARE LICENCED TRANSFERS MADE?
The transfers are heat transferable silk-screen inks printed onto a special release paper, which enables them to be quickly and easily transferred onto a t-shirt, sweatshirt, cushion or tote bag, or indeed many other fabric products using any standard heat press. Virtually all transfers can be used on light coloured garments and many are also suitable for application to dark coloured garments as well.
WHAT IS THE AVERAGE COST?
As a general guide a large A3 size transfer will cost around £1 plus VAT and smaller transfers, suitable for application to ladyfit and children's garments, will be around 50p plus VAT. We offer generous quantity discounts so please check our Price List for more detailed price information. The prices shown include all the shipping and custom duty prices - the price you see on the price list is all you pay. The cost of these top quality transfers compares very favourably with the alternative options for t-shirt printing such as direct to garment printing, inkjet and laser papers, and the results are superb!
ART BRANDS LICENCED HEAT TRANSFERS
The Transfer Press are the exclusive UK distributors of the Art Brands range of licenced heat transfers. The range of over 4,000 designs cover a wide range of subject areas - wild animals to fluffy cats, dogs to dinosaurs, street wear to bikers and much more. Art Brands heat transfer designs are suitable for printing on a wide range of products such as t-shirts, sweatshirts, aprons, canvas tote bags and much more.
WILD SIDE NEWS

WILD SIDE LICENCED HEAT TRANSFERS
Please note we have been informed that with effect from June 2019 that Wild Side have ceased trading. We have not been advised if anyone is going to continue to produce their range of licenced designs.
If we receive any further information we will update you here.
---
BEST FRIENDS PETS
We are the official UK distributors for Best Friends Pets who offer superb quality heat applied transfers and embroidered heat sealed badges for clothing, caps and bags!
The collection includes over 130 breeds of dogs together with cats, horses and a range of other animal designs including pandas, tigers, ferrets, sea otters, koalas and many more. The transfers are available in adult, child/mousemat and logo sizes and many designs are also available as a heat sealed embroidered badge.
HOW TO ORDER A CATALOGUE PACK
We offer a Catalogue Pack featuring the current Art Brands and Best Friends Pets catalogues for just £1.50 plus VAT which is refundable against future orders of 20 plus dozen packs. The catalogue pack includes a set of sample transfers for you to test print yourself.
HOW TO ORDER
We do not hold stock of the licenced transfer designs featured in our catalogue pack (with the exception of a range of Best Friends Pets dogs). We place orders with Art Brands on a three week rotation and Best Friends Pets as required. Orders placed with us by the Wednesday midday order cut off time will normally be dispatched the following Tuesday/Wednesday. Designs are available in packs of one dozen.
OUT OF STOCK ITEMS
Sometimes ordered designs will be out of stock with the manufacturers. We do not back order designs on subsequent orders as often it is the case that customers have ordered for a specific event they are attending and would not wish to have the transfers if they are not available at the time of the original order. If out of stock items are still required they should be included in subsequent orders.
COTTON T-SHIRTS AND IMPRINTABLES
We sell a range of cotton imprintables which are suitable for use with a lot of these heat applied transfers. See our Cotton Imprintables range for more information.