Creative Studio online design system

Overview
CREATIVE STUDIO
VIRTUAL PRINT MANAGER
SPECIFICATIONS
VIDEOS
Partner Plus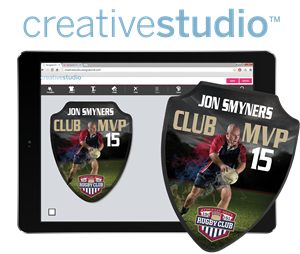 One Software Suite. Amazing Designs.
CreativeStudio is Sawgrass' innovative software suite consisting of the CreativeStudio Online Designer and Virtuoso Print Manager, both of which help creative entrepreneurs quickly and easily produce great-looking designs from any internet-connected computer or tablet.
No experience? No problem! Unlike desktop graphics software like Corel and Adobe, CreativeStudio is so easy to use that you can learn how to create print-ready designs in minutes. CreativeStudio's carefully curated library of thousands of templates and images can be applied to just about any market or application that you can imagine.
CreativeStudio is included with the purchase of any Virtuoso system. In most cases, this eliminates the need to purchase desktop graphics software and stock designs - saving you money in start-up costs.
The Virtuoso Print Manager is a web-to-print application that runs on your Windows or Mac desktop system and works with CreativeStudio - with built-in hot folder workflow and advanced colour management capabilities it is powerful and easy to use.
Product Advantages
Please note that the Virtuoso Print Manager is available for Windows operating systems for all printer sizes, there is not currently a MAC option for the 25" VJ628 printer.
No desktop graphics software and stock designs to buy
Create designs from your internet-connected computer or tablet
Curated library of hundreds of templates, thousands of designs
Full catalogue of product templates for Unisub, ChromaLuxe, Vapor Apparel and more
Add your own templates and images
Powerful and easy-to-use web-to-print and color management software included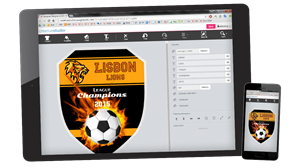 Easy-to-Use HTML5 online designer
Design from any internet-connected device - desktop, tablet or phone - no experience necessary. Quickly create proofs for your clients at home, work or even the beach, using Windows, Mac and Android platforms.
Hundreds of product templates at your fingertips
No more searching multiple websites for the right product templates. CreativeStudio has hundreds of templates direct from the most popular substrate manufacturers, such as Unisub, ChromaLuxe, Vapor Apparel, and more.
Huge curated library of images
Browse through our growing library of more than over 500 editable design templates and over 5,000 graphics, photos and images. Each image has been hand selected or designed for popular applications, such as sports products, personalised gifts, garment decoration, photo products, holiday items and more.
Free cloud storage of your designs and templates
Included with CreativeStudio is free online storage of your templates, print-ready files and uploaded images.
CS Print Manager Web2Print software
Design online and save to the cloud. With just a few clicks, you can send your images to your Virtuoso HD Product Decorating System printer using Virtuoso Print Manager software.
Get started in minutes with Video Tutorials
Get up to speed quickly and easily with CreativeStudio Online Designer tutorials, How-To and troubleshooting videos - all available on the Sawgrass website.
Print from CreativeStudio online designer
Though tablets and mobile devices can be used to create designs via CreativeStudio Online Designer, your creations need to print from a computer running Virtuoso Print Manager.
Virtuoso Print Manager is a program you install on your computer that enables your Virtuoso printer to receive CreativeStudio files for print.
This program has been designed to work specifically with CreativeStudio Online Designer and Virtuoso printers to ensure optimal colour accuracy and print quality.
After you set up your Virtuoso printer, just download, install and register Virtuoso Print Manager for access to CreativeStudio Online Designer.
Customisable pre-sets
Any and all print settings - including substrate, paper, hue, contrast, brightness, saturation, mirror and even print quantity - can be customised and saved for future use. If you have a customer who likes stronger reds or more colour saturation - no problem! Simply adjust the print settings to get the colours to your customer's liking and save them as a custom pre-set for future use.
Advanced colour controls
Easily apply settings optimal for graphic images and colour/ or black-and-white photos. Adjust the hue, contrast, brightness and saturation to meet the needs of even your most selective customers.
Easy and efficient prints on-demand
Productivity features, such as mirror image and built-in settings for popular substrates and transfer papers, get you up and running quickly. Streamline repeat orders with custom pre-sets and hot folders. With a single click of the mouse, you can quickly send jobs to print and be sure the colours will be right.
Built-in utilities and resources
To help you keep your Virtuoso system running at its best, Vistuoso Print Manager offers handy, built-in utilities, such as nozzle check and head cleaning commands. When you need additional help, technical, educational and remote resources are just a click away.
Multilingual User interface with help assist feature
You can configure the Virtuoso Print and Colour Manager user interface to your preferred language: English, Spanish, French, Italian, German or Turkish. The Help Assist feature makes Virtuoso Print Manager even easier to use. Simply place your mouse pointer over a button or menu to see a brief description of functions and how to make a selection.
Please check with us to ensure that you have an adequate computer system to effectively run not only the printer, but your chosen graphic software programs as well.
CreativeStudio Minimum System Recommendations
Windows 7.1 / Windows 8/8.1 / Windows 10 / Mac OS 10.9 or Higher
Minimum RAM: 2 GB
Recommended RAM: 4 GB
Recommended CPU: Dual Core 2 GHz
Min free HD Space​: 10% Free
Browser recommendation
CreativeStudio is compatible with most widely available internet browsers. However, Sawgrass strongly recommends using Google Chrome.
Internet connection speed recommendations
Designs with photos or simple vector graphics render quickly, even on the minimum recommended internet connection speeds. However, designs with numerous elements or complex vector images may render slowly on slower internet connections.
The minimum connection speed for using CreativeStudio is:
Download: 5 mbps
Upload: 2 mbps
Recommended connection speed for using CreativeStudio is:
Download: 10 mbps or higher
Upload: 5 mbps or higher
Sawgrass reserves the right to limit support to customers that use less than the minimum stated requirements.
Introduction to Creative Studio
Creative Studio and CorelDraw - a comparison
Creative Studio for the MAC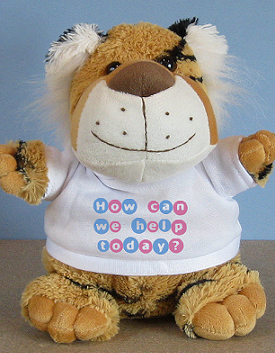 PartnerPlus
PartnerPlus is a comprehensive user support program that fully guarantees Sawgrass' premium ChromaBlast-R and SubliJet digital transfer inks against performance issues or defects. PartnerPlus covers any Ricoh or Virtuoso supported printer during its original warranty period.
PartnerPlus customers enjoy added peace of mind with this enhanced level of service:
Product Support
Real-time product support, including telephone, web and fax-based technical and usage support.
Software
Sophisticated colour management software support and application tips.
Warranty
Full product warranty against any Sawgrass ink cartridge performance issues or defects.
Phone Support
Technical phone support for supported printers that are under original OEM warranty and being used with the approved Sawgrass inks.
Satisfaction
100% satisfaction guarantee for all Sawgrass customers.