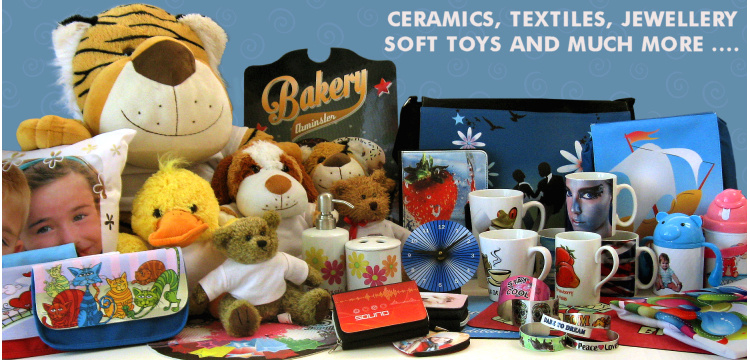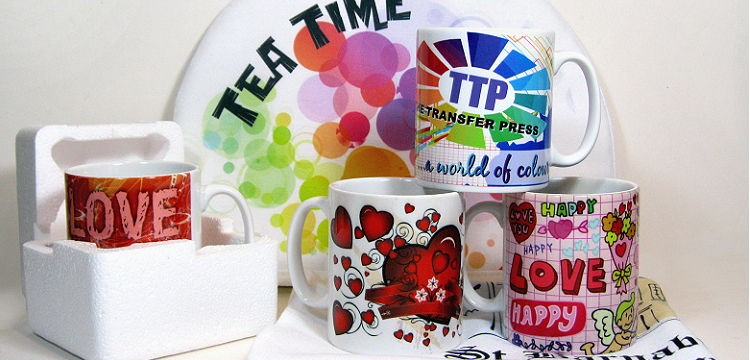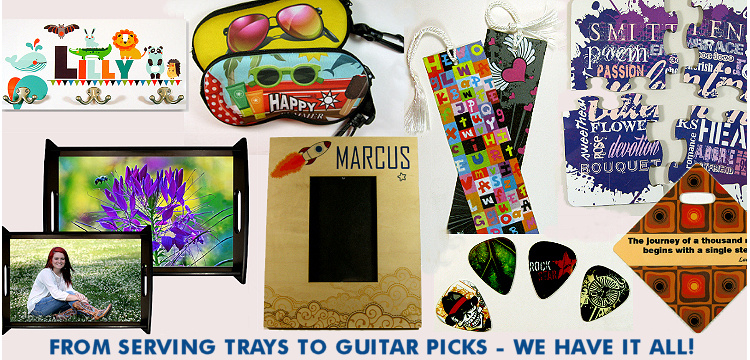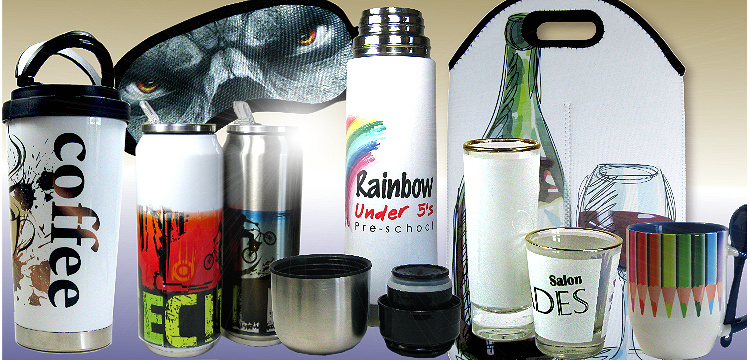 OVERVIEW
EQUIPMENT
PRINT MANAGER
FAQ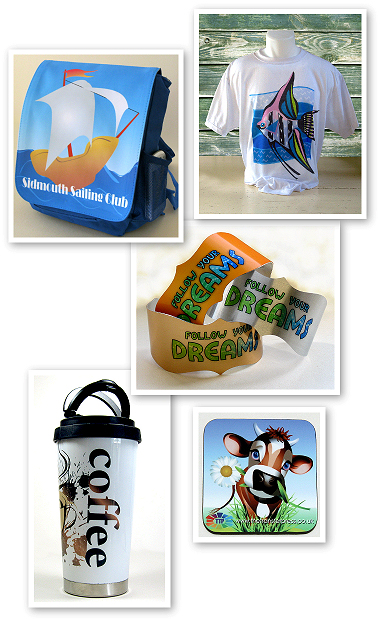 WHAT IS SUBLIMATION PRINTING?
Sublimation printing is the application of sublimation inks onto a surface using a heat press to provide the required combination of heat, time and pressure. This combination causes the inks to be converted from a solid to a gaseous state enabling them to penetrate the sublimatable surface so that a permanent, full colour image is formed. The colour penetrates the surface of the item so that the result is colourful, long lasting and resistant to scratching unlike some other printing methods that merely print onto the surface of the item.
Dye sublimation printing is always done on a polyester, polymer, or polymer coated item. At high temperatures, the solid dye converts into a gas without ever becoming a liquid. The same high temperature opens the pores of the polymer and allows the gas to enter. When the temperature drops, the pores close and the gas reverts to a solid state. It has now become a part of the polymer. For this reason true dye sublimation cannot be done on natural materials such as 100% cotton. Natural fibres and non-coated materials have no "pores" to open.
WHAT CAN BE SUBLIMATION PRINTED?
You can sublimation print onto a wide variety of items provided that the surface is suitable for sublimation printing. We offer both 'hard' and 'soft' items that are suitable for sublimation printing - full details of our extensive range can be found on our
sublimation imprintables
pages.
Hard items include specially coated plaques, signs, placemats, coasters, tiles, mugs, metal and keyrings. Soft items include polyester fabric, canvas, t-shirts, cushions, car sun screens, pillowcases and more! A sublimation print on a suitable polyester fabric is permanent, feels like part of the fabric with no 'hand' and will not crack, peel or fade.
WHAT CANNOT BE SUBLIMATION PRINTED?
Cotton fabric and garments - because dye sublimation printing is always done on polyester, polymer, or polymer coated items for the reasons mentioned above. It is possible to sublimation print a cotton fabric but the image will wash out within a few washes, it will not be a permanent image in the way that it is on a 'man made' fabric.
Also unsuitable are other items that have a polyester/polymer coating but are unable to withstand the temperatures required for dye sublimation printing.
WHY IS SUBLIMATION BETTER THAN OTHER SYSTEMS?
The advantage of sublimation printing is that the results are permanent. The transferred images are not on the surface of the substrate - they become part of the substrate itself.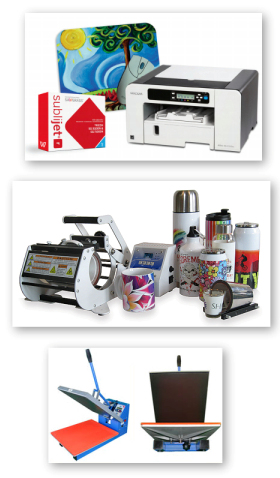 What you need to get started in dye sublimation printing -
A printer with dye sublimation inks
A heat press or mug oven
Sublimation paper
SUBLIMATION INKS
So what's special about dye sublimation inks? Dye sublimation inks are different to the usual inkjet inks that you can buy - they are a formulation of different coloured dyes suspended in liquids that will pass through a standard inkjet printer. So it could be argued that they are more dyes than ink in reality.
When you use dye sublimation inks you need to use a colour management system to correct the colours that are produced by your printer. We supply comprehensive colour management options with all our inks - see the 'Managing your colours' tab for a full overview.
We are authorised Sawgrass distributors and only offer their range of dye sublimation inks. We believe that the support that Sawgrass offers to it's customers is second to none - before you buy inks from other sources check if they offer
PartnerPlus
quality back up for their product.
SUBLIMATION PRINTERS
Sublimation printers are inkjet printers and we currently offer Sawgrass' own Virtuoso range, plus Ricoh and Epson printers for dye sublimation printing.
You could put dye sublimation inks into any inkjet printer but without professionally made ICC colour profiles or a PowerDriver which are custom written for each printer you will not get vibrant pure colours. This is because the printer has it's own profiles which anticipate that you will be using the manufacturer's own ink - if you use dye sublimation inks the colours need adjusting as these inks are not identical to the manufacturer's own inks.
For full details of our current range of printers see our
printer page
.
HEAT PRESSING FLAT ITEMS
For 'flat' items such as plaques, coasters, tiles, garments, etc, you will need a flat bed heat press. Full details on the range of Europa Leisure heat presses that we offer can be found on our
heat press
pages. All of our Europa Leisure heat presses are manufactured in the UK and comply with all EU safety standards. A range of alternative heat presses are also available for specialised items like bags, caps and plates.
Please note it is not possible to obtain the consistency of heat and pressure required for the dye sublimation printing process using a home iron.
HEAT PRESSING MUGS AND ROUND ITEMS
For dye sublimation printing mugs and round money banks you can use a
mug press
, or alternatively economical mug wraps which enable you to dye sublimation print mugs in a desktop halogen
mug oven
.
SUBLIMATION PAPER
To produce the best possible results it is very important that you use a high quality transfer paper such as True Pix dye sublimation paper which is the paper recommended by Sawgrass for use with their SubliJet and ArTainium inks. True Pix paper is specially designed to hold the ink on the surface so that you get vibrant images on a wide assortment of substrates.
VIRTUOSO PRINT MANAGER
Virtuoso Print Manager is Sawgrass' first universal print management software for SG400, SG800 and VJ 628 printers. Offering a singular solution for optimal print quality and production efficiency, this software combines the best features of PowerDriver, CreativeStudio Print Manager and WinProfile / MacProfile ICC profile solutions into a single, powerful and easy-to-use RIP-like application.
Virtuoso Print Manager makes it easier than ever to get great colour output with CorelDraw, Adobe Photoshop, Adobe Illustrator AND CreativeStudio design software for both Windows and Mac OS and allows for the direct import of .jpg and .png images.
It allows you to streamline production with an advanced array of features, including job and image nesting, hot folders with customizable presets, multilingual user interface, file- and web-to-print workflows and more.
The Virtuoso Print Manager is supplied as part of your Virtuoso printer package!
FEATURES
Works with SubliJet-HD CMYK, Pro Photo and Pro Photo XF inks, as well as ChromaBlast-HD and FabricMaker-HD.
Job and image ganging saves media.
Web-to-print workflow from CreativeStudio Online Designer.
File-to-print workflow from CorelDraw, Adobe Illustrator, Adobe Photoshop and more.
Hot folder workflow with customizable presets.
Advanced Colour with print preview.
Built-In ICC profiles for a wide variety of substrates and image types.
Allows embedded input profiles, such as Adobe RGB 98, ProPhoto RGB, etc.
Direct import of .JPG, .PNG and CreativeStudio's .SG or SGZ files.
Work with Adobe, Corel and CreativeStudio on Windows or Mac
Design both with CreativeStudio Online Designer and Adobe and Corel desktop applications on Windows or Mac OS.
Customisable Pre-Sets
Any and all print settings - including substrate, paper, hue, contrast, brightness, saturation, mirror and even print quantity - can be customised and saved for future use. If you have a customer who likes stronger reds or more colour saturation - no problem! Simply adjust the print settings to get the colours to your customer's liking, and save them as a custom preset for future use.
Advanced Colour Controls
Easily apply settings optimal for graphic images and colour or black-and-white photos. Adjust the hue, contrast, brightness and saturation to meet the needs of even your most selective customers.
Easy & efficient prints on demand
Web-to-print workflow for CreativeStudio and file-to-print workflow for CorelDraw, Adobe Illustrator and Adobe Photoshop for maximum versatility. Streamline jobs with hot folders with customizable presets, job and image ganging and built-in ICC profiles for a wide variety of substrates and image types.
Built-in utilities and resources
To help you keep your system running at its best, Virtuoso Print Manager offers handy, built in utilities, such as nozzle check and head cleaning commands. When you need additional help, technical, educational and remote resources are just a click away.
Generally dye sublimation printing and pressing should present few problems but we suggest a read of this FAQ to give you an overview of problems that could arise and how to prevent them happening in the first place.
Why can't I just use normal inks for dye sublimation printing?
Because the results would not be permanent. Only dye sublimation inks produce a permanent, durable, result on polyester and other suitable coated surfaces.
Do I need to worry about moisture levels in my imprintable items?
Yes you do need to be aware of how moisture in your imprintables can affect the finished results. The introduction of moisture into the sublimation process can cause unwanted results.
During production with a heat press operating at around 200°C, moisture can flash to steam and literally blow the ink away from its intended target. Some of the problems that are attributed to moisture include colour shifting (colours lose accuracy), image bleeding and the uneven transfer of solid-filled areas. Under normal circumstances, a small amount of moisture can accumulate in the transfer paper and it's usually absorbed directly into the substrate during pressing. However, hard substrates like metal and ceramic are unable to absorb excess moisture so it's important that you take steps to minimize the introduction of moisture into the process.
The first step is to protect the paper from moisture absorption - as a preventative measure, store your paper in a dry place in a sealed container or resealable bag.
If you think your paper may have some moisture in it just lay the paper on the base of your press for a few seconds. Do not press it; just expose it to the warmth. The heat radiating from the press should help evaporate most of the moisture.
Another trick is to use newsprint or butcher's paper instead of a Teflon sheet when pre-pressing your imprintable items. The paper will help absorb moisture from the transfer sheet during pressing, whereas Teflon will not. Be sure to use a fresh sheet of paper for each pressing cycle.
If you are working with garments or fabric, it's also possible that the substrate may contain some moisture. Pre-pressing the garment for about 10 seconds should remove the moisture, as well as any wrinkles in the fabric.
My colours are light/uneven or the image appears blurred
Read through the guidelines above on moisture. Check that you printed on the correct side of the paper - for our True Pix paper the print side is the bright white side of the paper. Double check that you pressed using the proper time, temperature, and pressure. We offer suggested pressing times and temperatures for all our imprintable on the respective product pages. Ensure that your substrate is designed to accept a sublimation transfer. Garments made from natural fibres such as cotton are not compatible with the sublimation process.
Help - my pressed image looks cloudy!
This can often be caused by moisture in the substrate you are pressing onto, particularly hard items such as MDF and ceramics. Read through the guidelines above on moisture.
I have blue specks on my t-shirt
This is usually caused by very small strands of thread that are on the surface of the fabric. Use a lint roller over the surface of the garment before pressing to pick up anything that is on the surface.
Can I use sublimation printed signs outside?
Currently sublimation printed signs are only recommended for very short term use outdoors as the UV resistance means that the images will fade relatively quickly. The outdoor life can be extended by use of a product such as
Frog Juice
which adds an additional layer of UV protection.
Can you recommend good sources of sublimation information online?
For Unisub and Chromaluxe products we suggest you have a look at the FAQ on the
Unisub
website.
There is a vast amount of information on the
Sawgrass
website. You may need to register to see all of the content but you can register to get access before you actually purchase any Sawgrass products.