Sawgrass Virtuoso printers for dye sublimation printing

Create like never before with Sawgrass' Virtuoso HD Product Decorating System, the industry's first and only fully integrated system designed specifically for sublimation printing.
Imagine brighter, higher-definition images, with unsurpassed ease-of-use, support AND lower startup and imaging costs. Virtuoso delivers all this and more, taking the art of digital printing to its next evolution.
Your SG400 A4 and SG800 printer packages are supplied with full set up instructions, access to Creative Studio and the Virtuoso Print Manager.
There is an overview of what you get in the various packages below and more details on the individual product pages - if you would like some guidance on the best option for your business please give us a call on 01404 892995.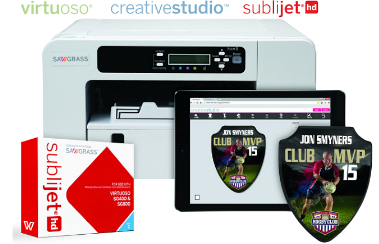 Printer

Size

Ink delivery


Studio

Price




A4 printers

Virtuoso SG400
A4
Standard cartridges
Y
349.00

A3 printers

Virtuoso SG800
A3
Standard cartridges
Y
995.00
Virtuoso SG800
A3
High capacity cartridges
Y
1,050.00